Anza-Borrego Desert State Park
With over 600,000 acres, Anza-Borrego Desert State Park is the largest state park in California. 500 miles of dirt roads, 12 wilderness areas and miles of hiking trails provide visitors with an unparalleled opportunity to experience the wonders of the Colorado Desert. The park is named after Spanish explorer Juan Bautista de Anza and the Spanish name borrego, or bighorn sheep. The park features washes, wildflowers, palm groves, cacti and sweeping vistas. Visitors may also have the chance to see roadrunner, golden eagles, kit foxes, mule deer and bighorn sheep as well as iguanas, chuckwallas and the red diamond rattlesnake. Listening devices for the hearing impaired are available in the visitor center.
Avila Beach California is so Beautiful, even the sun prefers to start its day here. With its boutique surf shops, amazing dining, breathtaking beaches, and activities for everyone, it's hard to imagine yourself anywhere else but on the Beach in Avila. Come experience this hidden paradise on the Central Coast, with one road in and one road out. Avila Beach will be the only place you'll ever visit where you'll never become homesick
Carrizo Plain National Monument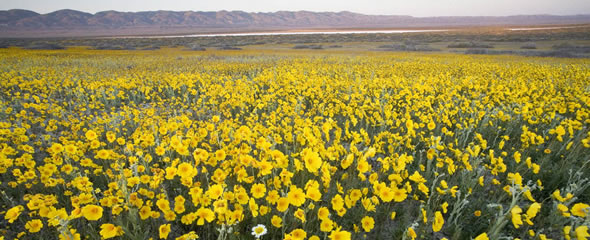 Carrizo Plain National Monument is one of the best kept secrets in California.  Only a few hours from Los Angeles, the Carrizo Plain offers visitors a rare chance to be alone with nature.  Some visitors say you can "hear the silence."  The plain is home to diverse communities of wildlife and plant species including several listed as threatened or endangered and is an area culturally important to Native Americans.
This remote monument, traversed by the San Andreas Fault which has carved valleys, created and moved mountains, and yet up close, is seen in subtle alignment of ridges, ravines and normally dry ponds.  Prominent features on the monument include the white alkali flats of Soda Lake, Painted Rock, vast open grasslands, and a broad plain rimmed by mountains.   When conditions are right, numerous wildflowers can carpet the valley floor; although short lived it can be breathtaking.
Soda Lake, normally a dry lake bed, is one of the dominant geographic features of the Carrizo Plain.  It is the largest remaining natural alkali wetland in southern California and the only closed basin within the coastal mountains.  As its name suggests, Soda Lake concentrates salts as water evaporates, leaving white deposits of sulfates and carbonates that look like baking soda.
The Carson-Iceberg includes both eastern and western slopes of the Sierra in its 161,181 acres. Though it lacks modern-day glaciers, the effect of glaciation is clear on its "Iceberg" namesake, a distinctive rock formation near Clark Fork Road on the wilderness's southern boundary. The area is also characterized by a geologic anomaly – a series of volcanic peaks and ridges known as the Dardenelles.
Climbing from 5,000 feet at Donnell Reservoir to the 11,400 foot Sonora Peak, the Carson-Iceberg contains comparatively few lakes but many deep river canyons lush with riparian vegetation. With almost a third of the precipitation of the wetter western slope, eastern plant life of pinon and juniper subsists on 15 inches of water a year with most of that falling as snow. Watersheds feed the Stanislaus River on the western side and the Carson River on the east, sustaining both the threatened Lahontan and sensitive Paiute trout species.
The hike to Cedar Creek Falls is a challenging 6-mile roundtrip and is not for the faint of heart. The trail winds through a narrow canyon and can be very strenuous and dangerous in some sections. You start by hiking down into the gorge until you get to the falls, which means you will have to hike out of the gorge to get back to the trailhead. The dirt path is well-maintained, and there are regular mile markers along the way.
Cedar Creek Falls is a beautiful place, but it needs to be approached with the necessary knowledge and preparation. The cliffs in the area are dangerous and should not be climbed or jumped off of. The is little shade, and the brutally hot summer temperatures have been known to cause heat stroke, so bring plenty of water
Convict Lake is a lake in the Sherwin Range of the Sierra Nevada in California, United States. It is known for its fishing and the dramatic mountains (including Mount Morrison) that surround the lake. Its surface lies at an elevation of 7,850 ft (2,393 m
In this below-sea-level basin, steady drought and record summer heat make Death Valley a land of extremes. Yet, each extreme has a striking contrast. Towering peaks are frosted with winter snow. Rare rainstorms bring vast fields of wildflowers. Lush oases harbor tiny fish and refuge for wildlife and humans. Despite its morbid name, a great diversity of life survives in Death Valley.
With numerous alpine lakes, scenic waterfalls and towering granite peaks, Desolation Wilderness is a perfect location for a summer trip. Whether you want an arduous climb or a relaxing walk, you'll find what you're looking for here. While summertime draws the most visitors, during the winter, the area becomes a popular playground for experienced backcountry skiers and snowshoers.
Thanks to its breathtaking granite landscape and surrounding scenery, as well as relative accessibility, Desolation Wilderness is one of the most popul
Mt. Morrison is one of the more notable mountains in the Mammoth Lakes area of the Sierra Nevada.  Its North Face is a spectacular sight when viewed from US395 near the Mammoth airport.  The rock in this area is noted for it's superb coloring in shades of white, yellow, orange, red, and brown.  Mt. Morrison's summit pendant, a lower Paleozoic roof pendant (USGS Professional Paper 1145), is composed of Dolomite and Marble – basically metamorphosed limestone.  The age is Pre-cambrian making it some of the oldest rock in the Sierra.Mt. Morrison lies east of the Sierra Crest, whose rain shadow prevents the normal precipitation found on Sierra peaks from reaching Mt. Morrison.  Consequently the peak is nearly free of snow early in the summer. A few thin lines of snow/ice can be found on the North Face into the summer.The rock is very loose, and caution must be exercised when climbing it's routes.  According to Secor, the north side has earned the nickname, "Eiger of the Sierra" (The High Sierra).  The peak sees a moderate number of visitors relative to other Sierra peaks.  The looseness of the rock is the primary detraction, while the impressive front and a short approach are the primary draws which lead to very enjoyable summit